Sep 29, 2006
This week we listen to "The Yellow Wallpaper" by Charlotte Perkins Gillman, and a little bit of "The Phantom Tollbooth" by Norton Juster.

Gillman (here she is)

is a particular favorite of mine. She wrote Herland which I'm (slowly) reading for Librivox. Great little book!

Juster is a freakin' genius. Really! I can't read nearly as much of his book as I'd like, but (here HE is)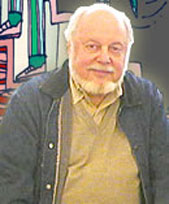 I will introduce you to this decidedly not just-for-children book.

Thanks for your patience getting this 'cast out.
Long week.

Visit Jen!

Today, "The Yellow Wallpaper" was read by Justine Young, and "The Phantom Tollbooth" excerpt was read by Yours Truly. And, as always, our opening music was provided by Joshua Christian at Garageband.com, for which I am eternally grateful.