Dec 13, 2013
Edith Wharton's Age of Innocence, Book 2, chapters 27-29, with many thanks to our reader, Brenda Dayne. Book talk begins at 5:20min.
If the iTunes feed ever goes down, please head over to the Libsyn site.
November Giveaway
You have until December 31st to win a copy of Green Gables Knitsby Joanna Johnson. November winner was Terri H.
However, RIGHT NOW you can "win" (that is "download right now") your very own copy of the first (and last) ever CraftLit Holiday Cookbook! I have to post this link early so right now you'll get a PDF confirmation. Every time I update the cookbook with new recipes you'll get an email with the latest download link.
Easy peasy and FREE! Merry Christmas!
Grounded
You can see (and purchase) the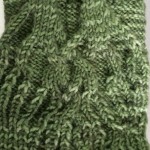 first five Grounded sock patterns—Rosie, Izzy, Jenn, Jasmine and now Justin—or get the automagically updating eBook and collect all 8!
Next week, look for the final three!
A sneak peek of the heel to Mina's Protective Sock is to the left.
Many thanks to Nanette the Nanny for knitting me my very own pair!
To keep on top of new socks, shawls, and sock puppet theater (you heard me) join the Grounded mailing list!
Lit Links | Sponsors | Crafty News | General News
All Premium Audio options explained here — current subscriber book, Charles Dickens' (not so) Bleak House and the first chunk of Bleak House is available in the Shoppe(it'll be a bit between chunks).
Literary Links of Interest for this chapter:
back to top
Our Sponsors:
Crafty News:
General News:
Booktalk begins at 5:20min
Want a button?
grab the code