May 23, 2014
We are reading Elizabeth Gaskell's North and South, chapter 22, with many thanks to our reader, Barbara Edleman. Book talk begins at 8:20 minutes.
If the iTunes feed ever goes down, please head over to the Libsyn site.
I've got a show and I'm taking it on the road!
Want Heather to visit you?
Technique classes, Cognitive Anchoring talks, and pattern classes with Heather are only a click away or drop me a line. LYS's and Guilds have been hooking up to bring me to town—so book me while there's space!
And don't forget: Patterns!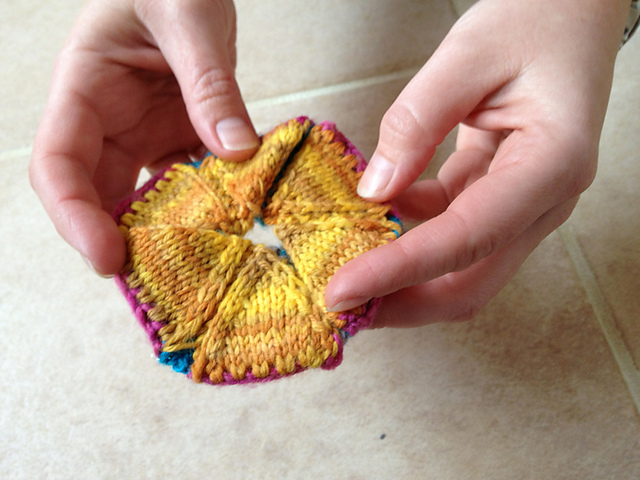 May Raffle

Our May Giveaway is for Mommy & Me Crocheted Hats: 30 Fun & Stylish Designs for Kids of All Ages by Kristi Simpson.
Follow this link to enter on our dedicated Raffle page. More on this book at the Mama O Knits Too Much blog. And keep checking the raffle page for the list of books Nanette's raffling off!
There's quite a few in there you won't want to miss!
Take this pic—or
| | | |
| --- | --- | --- |
| | Literary Links of Interest for this chapter | |
back to top
| | | |
| --- | --- | --- |
| | Our Sponsors | |
Appearances Yet To Come
June 1st at 1pm—Yarn Cloud—13895 Hedgewood Dr, Suite 113, Woodbridge, VA 22193. A little Defarge, some CogAnc, a few FOs, some Groundedness, and books to sign;
I'll be doing the Cognitive Anchoring talk twice on June 21st, 2014 at Uniquities yarn store in 421-D Church Street, NE, Vienna, VA 22180.
July 11, 2014—The Tangled Web Summer Camp Day One! 1–4pm for Defarge FOs, pattern-choice support and more! 7709 Germantown Avenue, Philadelphia, PA 19118
I'll be featured on this podcast (Today's Leading Women Podcast) soon...
| | | |
| --- | --- | --- |
| | General News | |
Return to the Top
Want a button?

grab the code below \/
Per survey-taker request...


...and more in the Defarge/CraftLit shop!
back to top