Sep 22, 2012
Part 4, Chapters 5–6 of Gulliver's Travels. NOTE: If the CraftLit iTunes feed ever goes down, head over to the Libsyn site. Not pretty, but always functional!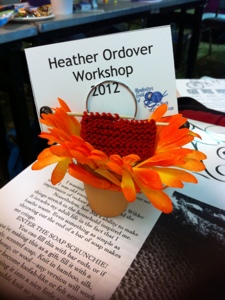 Arlington—home of the Handknitters Guild of North Central Texas ROCKS! The Dallas Handknitters Guild ROCKS! The Knitting Fairy ROCKS! Texas Barbeque ROCKS!
Go!
Eat!
Knit!
Make more friends for Cheddar!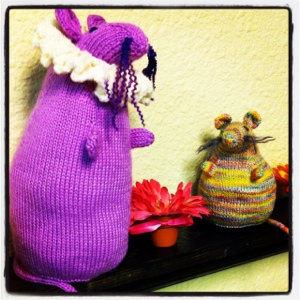 * * *
The Bizness:
New patterns in Mittens and Hats from Around the World with the original hat design coming from ME!!!
This week we're brought to you by Audible! Visit AudiblePodcast[dot]com[slash]craftlit for your free audiobook and trial subscription. Audible just started a crazy good idea—WhisperSync for Kindle/Audible. I've been listening to Ender's Game narrated by a non-obtrusive cast—not Alfred Molina, maybe, but the Husband is happy.
A PSA on the term "y'all" and its benefits, an explanatory on what it means to be a Subscriber-Supporter and the Tin of Tans genius from Christineis now for sale for the rest of the world. Spread the word, wouldja?
Maggie at Happy Hands and the creator of the kNotes for kNitters cards is a listener! Go take a look at her shop! Support CraftLit wonderfulness!
Think you just might want to travel with Amy Detjen, the Fabulous Dianne, and me? Next summer so the teachers can go? To…Ireland?
Would you be interested?
In order to make this trip a reality we need numbers. If you're reasonably interested and would like to be on the mailing list for this trip, please

Spread the word and have any friends-or-family who might be interested in joining you sign up too. Dianne will use these numbers and we'll let you know the details via the email you provide. You can Tweet the link, to your followers, too.
And
Be on the show! Click here for the Google Form!
The winner in the drawing for the iPad Knit Companion Lucy Neatby Collection is YUKA!!! Squeee! I will be contacting you (and if you don't have an iPad you can use, we'll send you something else and draw another name).
* * *
I will never, ever give or sell your email information to anyone.
* * *
And remember, if you subscribe you will get links to Cheddar, Wensleydale, and Holly Golightly patterns AND new exclusive audio every week! This week the husband has one of my favorite (and exciting) chapters of Cool for Cats ready for you along with more Wuthering Heights!
Defarge Two—What (else) Would Madame Defarge Knit? —this time in color!—is in pre-orders!
* * *
Ehren, master of Gulliver and The Bard is starting the next series! Henry IV! Check it out!
grab the code
270's book talk audio begins at 22min