Mar 30, 2012
BONUS EPISODE! "A Diamond as Big as the Ritz" by F. Scott Fitzgerald—part 1.
Join the conversation by tweeting a response to this question by using a hashtag (#FaveFitzgerald): Question: What is your favorite bit from the first half of "A Diamond as Big as the Ritz"?
I will randomly select a name from the responders and whoever I choose will get their very own WWMDfK? bracelet!
Have an idea for a knitting pattern based on a Hitchcock flick? Send yourself over to Stephannie Tallent's blog and get the skinny on how to submit your ideas!
And my new pattern (that I'm so proud of!): Hunger Games-inspired Life and Death socks—designed for those of us who tend to give their socks a beating. (more details on knitting blog)
If you would like to purchase the pattern you can do it here through

my regular shoppe account via the cart button below

, or via my Ravelry shop where the pdf will be stored in your Library. This sock is for the adventurous intermediate or expert knitter (or for a new knitter who hasn't been told that socks, cables, and double knitting are hard, the therefore is able to do anything)
Skills​
knit and purl stitches, YO, right and left leaning increases, decreases, cables
knitting in the round on two circular needles
reading lace and charts; use of stitch markers to delineate repeats
knitting both Continental and British (as commonly done in Fair Isle) is helpful if you wish to include the optional hidden pocket
knowledge of double-knitting is useful but not required. Tutorial included.
Size​
(S,M)L— for accurate fit, measure around ball of Foot (7in,8in)9in,
Gauge​
​ 28 sts=4 in/10cm; 38 rows=4" on sole-stitch stockinette; same on stockinette arrowhead lace
Yarn ​ Needle ​
​​ Two US 1 (2.25 mm) circs; cable needle or appropriate substitute tool; one set US 1 dpns for optional pocket
Notions​​
​ stitch markers or paperclips (many)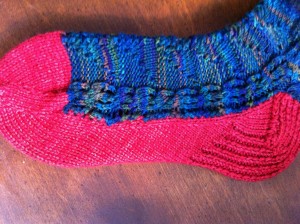 Woven Fabric Social Media Icon Set by Webdesigner Depot
Book talk starts at 4:30 and you can listen to it here.